Appointments to Visit our office 
Puppy pick-up appointments need to be scheduled as soon as you know your schedule. We are available Monday - Friday from 10 am - 4 pm. Please keep in mind we schedule our appointments on the Central Time Zone. We are unable to offer weekend pickups. 
Please note our physical address is different than our mailing. For GPS purposes, our address is: 26705 Rolling Ridge Drive, Robertsdale, AL 36567.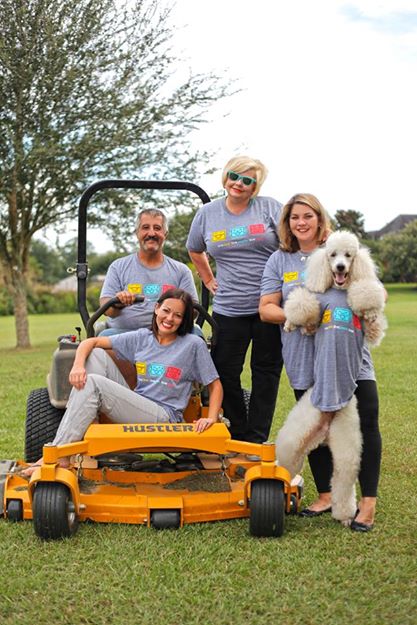 Confidential Private Pick-up Appointments
We also schedule confidential pick-up appointments for our celebrity clients at a private location on our property. 
Puppy Delivery to Pensacola Airport
We will Personally deliver your puppy to you at Pensacola Airport.
You need to schedule your flights by the time your puppy is 6 weeks old for the lowest fares.
Please inform the airlines that you will be returning with a puppy.
You will need to purchase a soft-sided dog carrier, get one that is for a dog up to 25lbs, this will give the puppy plenty of room. The weight restrictions for most airlines is 14lbs.
We Strongly suggest this service for puppies that have completed a minimum of 2 weeks of Doodle Prep School
Smeraglia D'Uber Ground Delivery Service (Very Limited Availability) 

$1.50 per mile (one way) - Up to 600 miles
$150.00 - Additional puppy to same family.
Crate Pricing: $45.00 (Small/Medium) - $75.00 (Large plus) - NON Prep Pricing. This does not apply to those puppies who attend our Prep School Program. *Sales Tax applicable, as needed
Smeraglia Doodle Dash Ground Delivery Service (Very Limited Availability)
Flat Rate Delivery for 1200 miles from our address
Must have a minimum of eight puppies to make the trip
Pricing begins at $1295
Crate not included unless puppy went to our Doodle Prep School - Crate Pricing: $45.00 (Small/Medium) - $75.00 (Large plus) - NON Prep Pricing. This does not apply to those puppies who attend our Prep School Program. *Sales Tax applicable, as needed
your delivery dates must be very flexible for this service
Aupair Air V.I.P Nanny Delivery Service : 
Email : Lauren@Smeraglia.com to get a quote 
Guaranteed Priority Dates Available
Very Flexible
Can accomodate larger dogs
Service dog delivery