4 WEEK Stay & Train Program: Price $2,780.00 
During the four weeks Stay & Train Program the puppy will receive all of the benefits of the two-week program. We teach the basics the first 2 weeks then we do a lot of reinforcing for the next 2 weeks. Consistency is the KEY to this program. 
This program is designed for the novice puppy owner. It's ideal for those that want a more comprehensive program that will render a better-trained family member. Due to the extended length of the program, the trainers will be able to work with the puppy more in-depth.
They will have more time to get to know your puppy and fine tune the skills that were introduced in the first two weeks.
Our Complete Foundational Training is a 16-week program, puppies in this 4-week Stay and Train program will have completed 1/4 or 25% of the full program.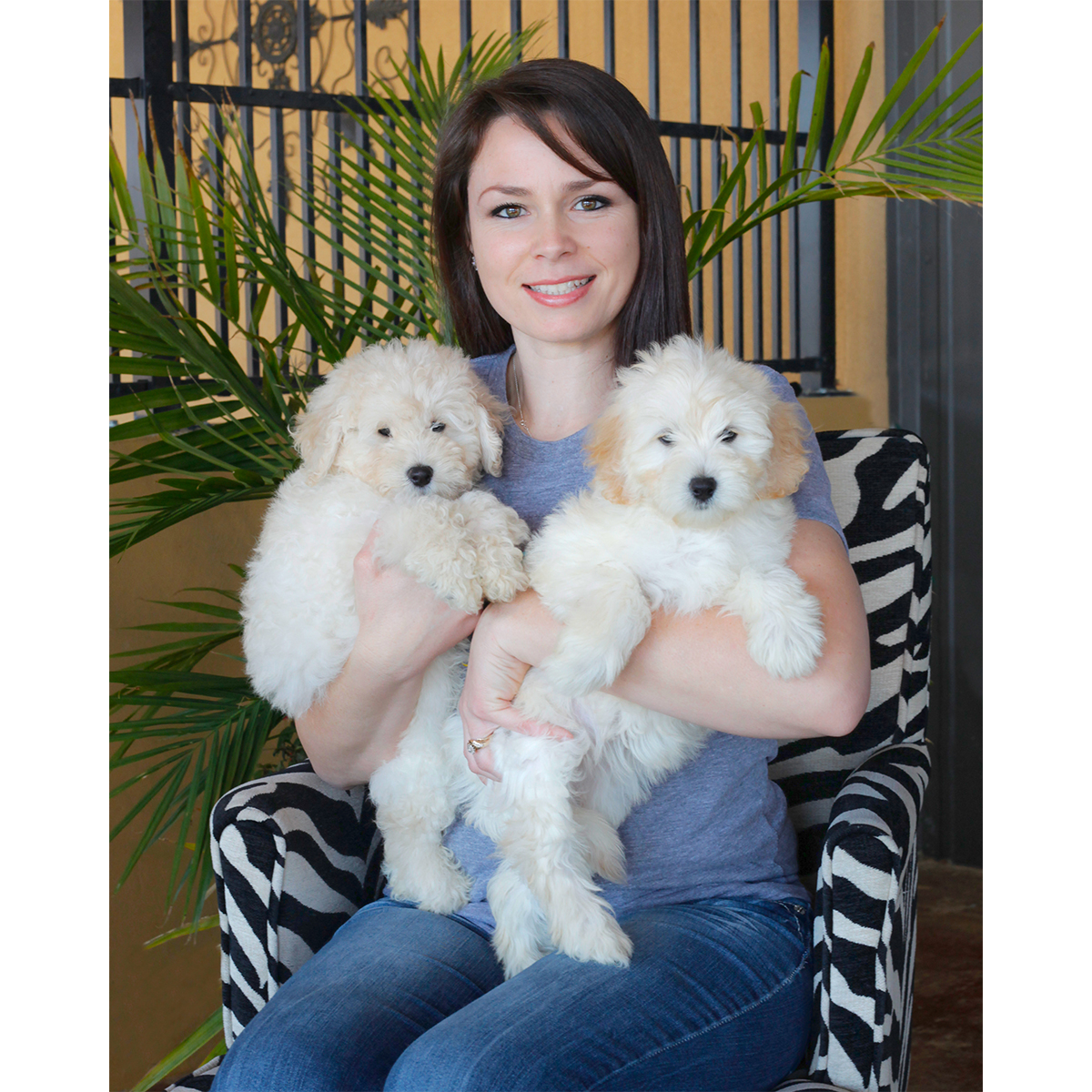 This week the obedience is becoming more solid and we begin adding difficulty through the 3 d's (distance, duration, distraction).  The puppy is being allowed more supervised, off leash, in the house freedom this week because at this point there is a good foundation of good choices being rewarded.  We now will give the puppy a chance to make the wrong choices so he can receive feedback if he does and rewards when he doesn't.  We will begin seeing puppies go to the door on their own this week, but will still need to prompt them to ring the bell.  If we are not supervising or do not notice him go to the door accidents will occur.  Crate training at this point is very good.  The puppy is now as close to your schedule as we can reasonably do for the puppy's age and to achieve the goals set each week.  Manners are now being worked with with feedback words and rewards for good choices.  We begin working through our socialization scavenger hunt on the new things we can expose him to while still around home.   
The KEY is REPETITION & REINFORCEMENT!! 
Puppies completing the four weeks of training will have a stronger and more solid understanding of appropriate household manners such as not walking between your feet, jumping up, or destroying inappropriate objects.    
Problems such as jumping up, mouthing (puppy nipping), chewing, etc. will be worked on and usually pretty well under control at the end of this four week period. 
Goals:
Your puppy will receive around the clock 24/7 care for the length of enrollment in our program.
Your puppy will live in the home of a skilled, insured trainer.
The initial adjustment away from the litter, which is more dog oriented, to a family home setting which is more people oriented will take place with a professional. Most puppies come home ready to instantly bond.
Your puppy will be on a schedule of eating, drinking, and going potty to make house training much easier. You will receive a copy of this schedule.
Your puppy will be crate trained, meaning in most cases your puppy can hold potty and remain quiet overnight and for a few hours during the day.
Your puppy will be familiar with the taking and following of treats and how to wear a collar and leash.  Many new puppy owners do not realize how important this is in the training process, and that this does not come naturally to a puppy.
More practice to maintain consistent results with the obedience commands, "attention" (his/her name), "sit", "touch", "leave it", "down", and "come."
Your puppy will know the four feedback words of "good", "nope", "okay" and "leave it" to aid in communication.
Your puppy will be introduced to basic grooming and maintenance such as brushing, ear cleaning, nail trimming & teeth brushing.
Your puppy will receive socialization throughout the day with children and other household pets.
Potty Training Started: Puppies enrolled in the four-week program will be in the mastering phase of the potty training process and are beginning to understand manners and what is expected of them. They will require a great deal of attention to continue the potty training in your home, as well as reinforcement of all the rules we have been working on with them.  Please keep in mind that it is not possible for a puppy to be 100% reliably house-trained until the puppy has matured which is usually between the ages of six to eight months.  If you desire a 100% house trained puppy with little or no work on your part, then you need to consider our Complete Companion Dog Program. By following the rules set out in the 4-week program, accidents should be minimal after the initial transition period of three to five days.
The puppy will be further along in the house-training process, and your puppy will be put on a personalized schedule that mirrors your own, which will allow the house-training to run more smoothly in your home. Puppies in the 4-week program will have the benefit of additional socialization, which means a more well-rounded puppy. Upon request, puppies in this group can also be introduced to the bell as a means for signaling the need to go outside to potty.
Medical Protocol: Your puppy will be fully vetted during their 4-week stay and receive Age Appropriate Vaccinations & Deworming
One of best things about sending a puppy to our Prep School Program: If at any time the puppy developed negative behaviors that we do not feel are suitable for your family, we will advise you immediately and look for a more suitable puppy for your family.
Includes Whole Puppy Starter Kit:
Leash
Collar
Tell Bell 
Cassie Bear Ball
Cow Hoof Chew Toy
Sample of Karbo
Hard Crate for Training /Travel 
Access to our Doodle Prep School exclusive training videos ($299 Value)
Puppy will be Vetted twice: Age Appropriate Vaccinations & Deworming (9 & 12-week Vaccination will be given)
Life Long Support
Go Home Video
Conference Call From Trainer