Reputation is very important to me. As a Christian, I live my life by the principles of the Bible. 
There is a text in Proverbs that reads, "A Good Name is better to be chosen than great riches".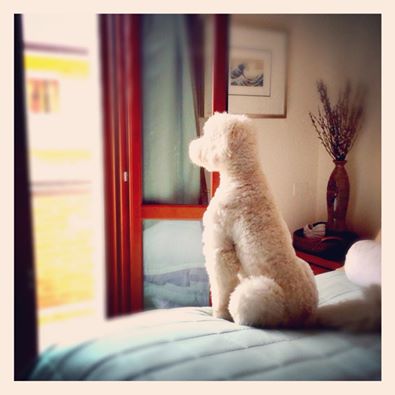 I operate my business with his motto. We have worked for over 18 years with many families and have developed many wonderful relationships. Many of our puppies are placed from referrals from previous puppy owners. We have several second, third, fourth, and even fifth time repeat puppy owners. I have to warn you, our puppies are addictive and many people cannot have just one.
As with anyone who deals with people, issues can arise that needs to be resolved. Our goal is to always handle a concern from a client with the highest of ethics and fairness.
********************
I have a 9-month-old puppy that went to 3 weeks of prep school. I would do it again in a heartbeat. Not only was a puppy more comfortable when we got her home but she knew some basic skills and was crate trained. She has done very well in potty training and overall has good listening skills. When I took her to a local obedience class to keep her active and increase skill level they could tell away she had prior training. I don't think you will be disappointed. And the trainers and staff were great! Tonya  
************
Hi! We just received our Schnoodle a week ago after 4 weeks of prep school and I only have highest praises for the whole program! Grace came home sleeping 8 hours in her crate at night without a peep, is about 95% housebroken (will still have the rare accident in the house if I'm not paying attention to the signs), and already knows how to sit, lay down, say 'Hi', leave it, and can ring the potty bell. She is now beginning to make the association that ringing the bell means 'go outside' to go potty. She had been put on a schedule which really makes having a puppy in the house easier. She also knows how to walk on a leash. The patience and genuine love which the Smeraglia trainers daily show these pups is nothing short of miraculous! Be sure to ask the trainer every question you have, no matter how trivial you may feel it is. They are all so happy to help you! Which puppy did you choose? When will he/she come home? You won't be disappointed! Cathy Sheehan
************
Hi - we had our boy "Riley" (Crimson Orange born in Dec 2012) attend 4 weeks of prep school. This was our first pet so we wanted to make sure he was sound fundamentally with house/crate training, etc. We would make the same decision again instantly. We only had about 4 accidents in the house and I would put those on us for not reading his "I need to go" signals.
The weekly video updates gave us a great overview of how he was progressing and what he had learned. We think it made the transition into our home much easier. 
We see you are in Wisconsin, we are in the northwest suburbs of Chicago.
Have fun! You are in for one of the best experiences in life! Dennis
************
Yes, Cookie came to us with 3 weeks of puppy prep school under her belt. She had her vet check today and passed with flying colors. The vet said that we were ahead of the game because of her potty training and now we just have to continue to reinforce her crate training. Take Care, Dana
*************
 My pup Ted (Olivia/Murphy girl 12/10) went to prep school for 6 weeks. It was a GREAT experience for our puppy and our family. I highly recommend the doodle prep school. Carol and her staff and in home trainers are fantastic! Send your puppy for as many weeks as you can afford. Alison
************
 I sent Buzz (Dottie/Jack 4/30/11) to prep school for 5 weeks. It was the best thing I could have done for Buzz and myself.
My trainer that I work with now said EVERYONE should send their dog to this school. It makes things much easier when they arrive at their "forever" home. Worth every penny!!
Jackie Savoie
************
I feel it is very worth it. They don't come back totally trained but they have been given the tools and a wonderful foundation. If you follow their guidelines and continue to go with the program, you will indeed think it is worth it. I have two doodles. One went for 3 weeks and the other went for 6 weeks. 
I would not bring one home without it. They go to trainers home and live with the family. That in itself is a huge asset. They are loved on, crate trained and on their way to the world of being potty trained. IT is your job to continue the training. The thing that I loved was that we did not have had as much mouthiness was they do when they come right home not having gone to school. 
Good luck.
It is expensive but you are buying an expensive SMART dog that will learn good habits from the start! Susie
************
I sent my Murphy 4/14/11 Paris/Skye toy to prep school for 5 weeks. Worth every penny. Smeraglia pups are probably the best and with prep school, he is near perfect. I just haven't gotten the hang of keeping his exuberance with people under control. Kathleen & Murphy
************
I sent Scout for 4 weeks and it was well worth the money. Getting a new puppy can be an overwhelming experience, so having someone begin things like crate training, potty training, adjusting to a home environment, and basic commands are well worth it.
Something to keep in mind with dog training in general-- you have to constantly keep at it. I have had Scout for almost 6 months-- we have done a lot of training, and I would say that he is well trained. However, I still need to keep on top of him. If left to his own devices, a dog will do whatever the heck he wants. So while puppy prep school will help establish initial behaviors, you will have to continue to work with your dog in order for those behaviors to become permanent. Good luck! Andrea
************
We sent Charlie for two weeks. We highly recommend it. He knew his name and basic commands. We have continued that training and found that he enjoys new challenges. The housebreaking had also been started so when he came to PA - need we say more??
It was definitely money well spent. The feedback & videos were great! Pat Mitchell
************
We sent our Zoe/Chili girl to school for two weeks and it was great! Having a puppy is hard enough, but the training has helped me from completely losing my mind.;) I highly recommend it! Anika
************
Hi,
Yes, I was in the same position and couldn't wait but I am so glad I did. Our F1 toy Doodles came home after two weeks of school knowing when to ring the bells, rode well in the car, almost totally house trained. My big mistake was I could hardly put her down and she liked cuddling in my arms better than the crate. Good luck, they really improve the quality of life. Greta
************
We definitely recommend Prep School.
We got Sasha Dec. 10th and she was only at the puppy school for 1 week and I was just so amazed by how well behaved she was and hardly any potty accidents at all. Maybe one every other day. She came in her crate so quiet and when we took her home she was just so full of love. She didn't eat much the first few days maybe because of nerves but we just gave her some yogurt with her food (as suggested) and she ate it just fine. Thanks so much Carol. You did a wonderful job with her! We really appreciate it. Parissafathi
************
My beautiful Golden Doodle was in a program for 6 months and is the best dog in the world. I would highly recommend any of the programs that Sherri and Beverly have in place. They made it possible for me to have a big dog and he is perfect. Vivian
************
We had Artie stay for 2 weeks of prep school (longest 2 weeks of our lives waiting for him to come home) and we were really happy with everything. He came to us completely crate trained. From Day 1 he slept in his crate with no whining or crying and slept straight through the night (still does). He wasn't house trained (no dog will be in 2 weeks) but he is now at 6 months old (hope he stays this way :)) and he learned really quickly. I don't even remember the last accident, it may have been almost 2 months ago.
He was not into the bell at all so we got rid of that after a week of trying to get him to ring it. He did know sit, down, and will do "leave it" only if there are treats around. The only thing I wish he was introduced to is the STAY command, he doesn't know anything about it.
I would do prep school all over again in a heartbeat, even if only for the crate training. What a pleasure it was to have him sound asleep for 8 hours from the first night he arrived.  Karyn
************
We had our dog Tux at our prep school for 5 weeks so he was about 14 weeks when we got him. We did that because we already had vacations planned before we got him, and we didn't want to receive him then board him. Anyway, I think prep school was a tremendous help! He only had 3 accidents in the house ever, and those were all our fault because we ignored the signs. Also, he knew all of his commands--sit, down, stay, etc. We still needed to keep up the practice, but it helped all of us. He would go to bed around 10:00 and wake up around 6:00. He would cry some when we would put him down, but the trainer told us to ignore. He had been making it through the night with her for weeks so don't give in. He did go through the terrible mouthing on all of us for a couple of months. We just stayed on him and eventually it stopped. I think he mouthed us so much because I have kids who wanted to romp around with him and play, and Tux didn't know when to stop. 
Now he is a fantastic dog. He LOVES kids, dogs, and anyone who comes to our house. He is very well behaved, but we did do lots of training classes on our own. I think Prep School isno-brainerner just for the potty factor and sleeping through the night. Krystin